so·cial
adjective \ˈsō-shəl\
: relating to or involving activities in which people spend time talking to each other or doing enjoyable things with each other
: liking to be with and talk to people : happy to be with people
: of or relating to people or society in general
It's called SOCIAL media. By definition, social implies talking and communicating. Broadcasting, spamming or other ways of interruptive, distracting, selfish, one-way, mind-jacking advertising does not work in the social media space. In today's online marketing sphere, you can still buy media, but in social media you can no longer buy attention – you have to earn it.
Every month, there are over two billion active users on Facebook, over one billion on Instagram, and over 365 million on Twitter worldwide… In the U.S., 77% of the population has a social media account of some kind. Whether their using it to chat with friends, stay connected to people across the globe, or for business and networking purposes, consumers are on social media for a multitude of reasons.
With so many people checking their smartphone notifications and social media feeds while traveling, commuting, and even relaxing, what better way to market than on social media?
Social media allows advertisers to reach their target audiences in a low-cost, impactful, and effective way. This is exactly why social media campaigns have become a crucial marketing technique for businesses everywhere. With billions of people on social platforms — and continued growth in monthly users and influence — it's hard to imagine how businesses could remain relevant without creating a social media presence.
Creating a Social Media Plan
So what makes a successful social media strategic plan? Aside from being clear, concise, and measurable, it also needs to outline your goals for the year and how you'll achieve them.
Here is a simple social media strategy plan, broken into actionable steps that you can follow to ensure your campaign produces an ambitious yet attainable social media goal. Let's get started…
Step 1 – Understanding where you are
Using the data generated from your social media audit, carefully check the metrics from each social channel:
Which networks are you currently active on?
Are your networks optimized (photo and cover images, bio, URL, etc.)?
Which networks are currently bringing you the most value?
How do your profiles compare to your competitors' profiles?
Which channels are generating leads, driving traffic, and increasing conversions?
Make sure you align these results with the goals you set for the previous year. Although a high number of likes and shares of a particular campaign you ran may look encouraging, ultimately you need to ensure every campaign is achieving its specific predefined objectives.
Tracking social metrics in relation to your brand's social goals will allow you to monitor whether your social media performance has been successful in terms of ROI (return on investment).
After you've completed your year's social performance, you will have a clear understanding of your successes and failures. You can then use this information to plan an effective social media marketing strategy for the upcoming year.
Step 2 – Define Your Marketing Goals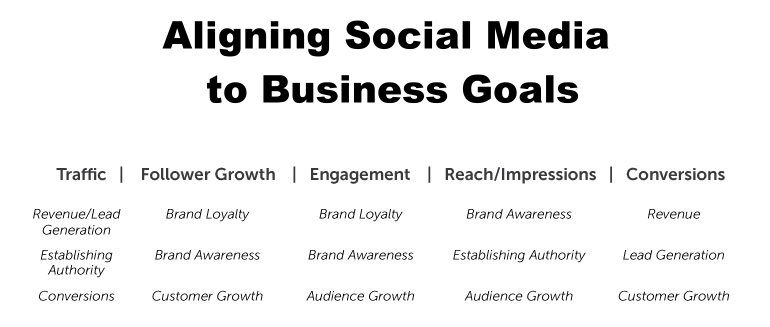 Social media marketing goals should always be closely aligned with your company's wider goals. Marketing goals can vary greatly depending on your industry, the size of your company, your audience, your competition, and many other factors. However, potential goals could include…
Increasing brand awareness
Driving traffic to your website
Building a community on social
Generating leads
S.M.A.R.T. GOALS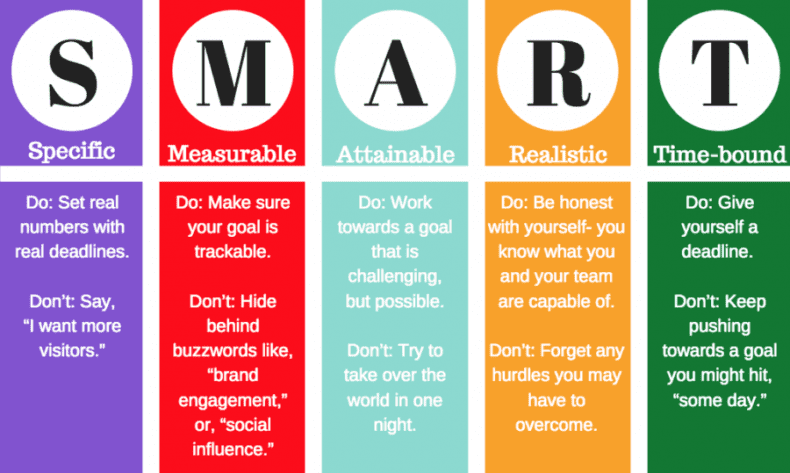 Goals and objectives should be S.M.A.R.T. – specific, measurable, attainable, relevant and time-bound.
Break each goal down, documenting what you want to achieve, so you have measurable and attainable objectives to work towards. Then identify which key metrics should be used to measure your progress toward your targets.
In general, there are the ten social media goal categories you can have:
Build brand awareness
Mange brand reputation
Build and manage an engaged community
Increase conversions/sales
Gain customer/market insights
Identify and nurture leads
Deliver customer service/support
Attract candidates (recruitment)
Identify crisis and manage communications
Improve internal communications
Even-though these are general goal categories, you can use them as a goal-setting "framework" to develop into specific goals for your company.
For each type of goal:
You'll need to choose the metrics most relevant to your objective.
Then aim for a percentage improvement within a set timeframe.
You'll likely have more than one social media goal per channel, and that's fine. Generally, you'll find more success focusing on just 1-3 goals unless you have a team (and different people or groups within the team can take on different goals).
Each goal with have a number of different elements. For example, if you have a goal of build brand awareness, what metrics should you track and what are the measures of success?
Brand awareness indicates how many people on social know you exist and understand what kinds of products and services you offer.
Key metrics related to brand awareness include:
brand mentions (tagged or not)
shares
post reach
impressions
virality rate*
amplification rate
Use streams to make sure you measure brand mentions that do not use your @handle or branded hashtags.
* Virality is the number of people who have created a story from your post as a percentage of the number of people who have seen it. Facebook Insights gives page owners a rate of virality (the percentage of people who created a story from a post out of the total people who saw it).
Step 3 – Define WHO Your Marketing To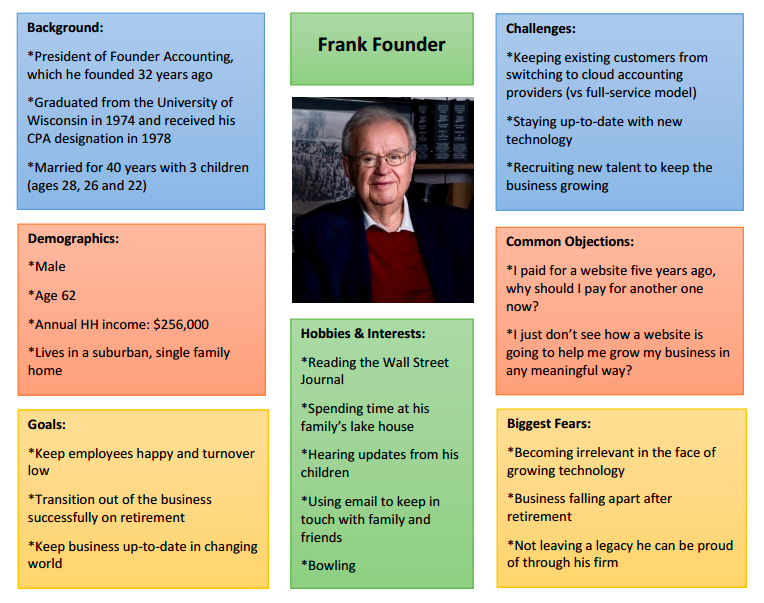 Whatever your business, your audience will be made up of different audience 'groups'. Break down the data to find out who your different audience groups are, where they all hang out on social media, what content they are engaging with, and more.
For each audience group, you should then create a persona, helping to clearly define who your followers are. Audience personas should inform content creation, marketing campaigns, ad targeting, and more to ensure conversions against your goals.
Even the best marketers will fail if they are marketing to the wrong audience. The insights from this process will help tailor your social media marketing strategy and help you to develop clear strategies to ensure you engage with all target audiences.
Step 4 – Identify Channels and Key Times to Post
It is important that you identify your key distribution channels and define your strategies for each channel. The more knowledge of how your own brand and audience interact on social – the more strategic and targeted your campaign can be.
Your research will show which social channels your audience is most active and engaged with in your niche and your brand. This will help you determine where to focus the majority of your resources.
A. Determine the Purpose of each Social Media Platform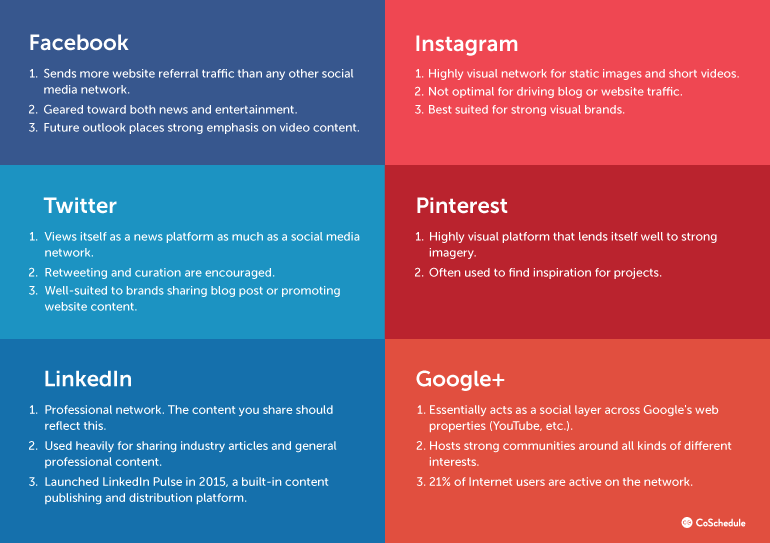 Your marketing strategies will differ for each social media platform. For example, it may be that you will use Facebook to create an interactive community via your Facebook page and groups, while on Instagram you promote your products through beautiful images.
Your social media marketing strategy should document your brand's purpose on each social media platform. You can then adapt your content and actions on each platform accordingly. Use your audit results, as well as your audience data and audience personas, to help you determine each channel's purpose and what content performs best on it.
Here is a rule-of-thumb breakdown for each of the major networks:
Facebook – Facebook sends out a lot of traffic. More than any other network. Since it's geared towards news and entertainment you want to keep your content light and entertaining. And video content performs the best here.
Twitter – Twitter is more a news platform. Curation and retweeting is thus encouraged here. You definitely want to focus trending hashtags and topics.
LinkedIn – The Professional network where industry articles, interesting data and short, to-the-point sentences go a long way.
Instagram – A platform well suited for visual brands. Pictures, call-out quotes and short videos are doing well here.
Pinterest – Also great for visual brands as it's completely geared towards imagery. Most users look for inspiration here.
B. Deciding the Key Times to Post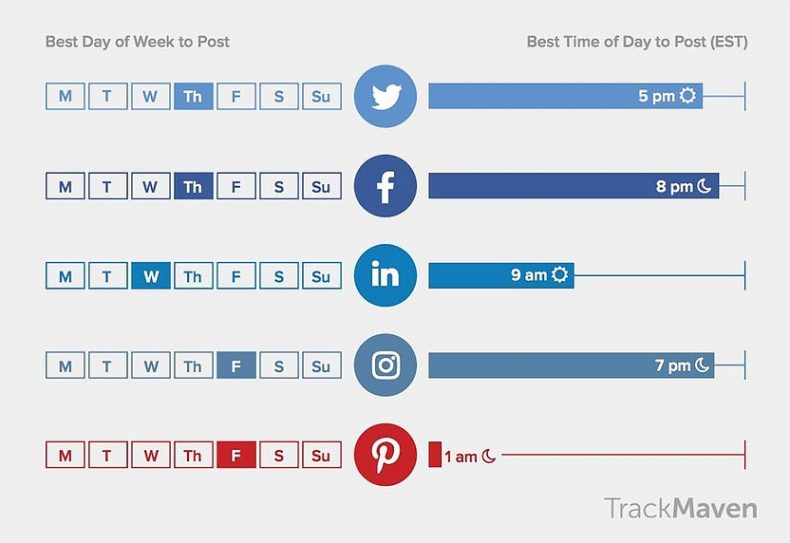 There has been numerous studies on when to post to social platforms – but understanding when your audience is most active on social, will let you know the optimal time for your brand, ensuring the highest levels of engagement.
Data collected from a wide variety of sources has enabled me to identify the top days and posting times on social media. Let's take a look…
Facebook – Best days to post are Wednesday, Thursday and Friday, with the key time being 12 – 4 pm.
Instagram – Best days include Monday, Wednesday, Thursday and Friday, while the key time is 11 am – 1 pm.
Twitter – Best days to post are Monday, Tuesday, Wednesday and Thursday around 12 pm.
LinkedIn – Best days to post are Tuesday, Wednesday or Thursday between 5 and 6 pm.
The problem with suggesting when to post – data is typically skewed… I don't know the time zones, the niche, or other key points. Your location versus your audience will affect posting times as well as the industry.
Your Goal – Aim for consistency, not frequency
The ideal time to post… Study your own audience and post when they are most active on social. Examine each specific channel to identify exactly when you should be posting on each channel to ensure you connecting with your target audience.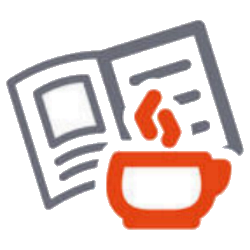 To illustrate my point, here is an excellent article, "Best times to post on social media for 2019" published on Sprout Social. The author worked with Sprout's data science team to pull information based on their customers in order to find out the best times to publish on social media for four social media networks. The data shows when their 25,000-plus Sprout customers were most engaged (and least) across major networks and broken down by industry. You'll see how different each industry posting time varies even on the same network.
Step 5: Create/Update Social Media Accounts
Now that you've examined your social media footprint, defined your audience and generated great campaign ideas – it's time to enhance your online presence. Focus on the social networks where your audience is. Build new social profiles on the networks you don't have a presence and update existing profiles if they are incomplete for maximum results.
Every social network resonates with a different audience so treat them differently. Enhance your profiles to meet your marketing objectives. Consider optimizing your profiles for SEO and generate more website traffic or cross-promote your social accounts to grow your audience. No matter what your objective, you'll want to complete your media profile with full descriptions and images – optimized for that specific network.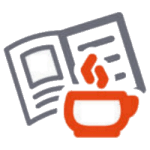 When it comes to social media marketing, the creation of social media profiles is absolutely essential. They influence your brand, online reputation, and SEO efforts when someone searches for your name so you need to think of each social media profile as a landing page. This article, The 10 Elements of a Successful Social Media Profile, by Kristi Hines and Kissmetrics will give you give you some tips on the important elements you need to consider when creating profiles.
Step 6 – Create and Curate Engaging Content
Sadly, many businesses jump straight to this step. Hopefully, this section has shown you that there is a lot to consider before you start creating and curating engaging content to share on your social media channels.
So, what exactly is considered content? Here are a few examples of content you could create:
Images
Videos
Blog Posts
Company News
Infographics
eBooks
Interviews
The list of content ideas goes on and on, but make sure you focus only on forms of content that align with your mission statement, as well as your skill set. Content is crucial, I've broken content creation into another section.
Ideas & Inspiration
One of the most important reasons for being active on social media is that your consumers already are. So are your competitors and that's a good thing! You can get inspiration from your audience, competitors, and thought leaders through the many ways:
What content gets the most social media engagement.
Learn your audience's' habits (when they share and why) and use that as a basis for your social media marketing plan.
Monitor your audience not only through the content that they share but in the way that they phrase their messages. See how they write Tweets, Posts and comments and strive to mimic their style.
Follow your competition and learn everything you can. Don't be afraid to do research and see if they've shared any social media advice or insight elsewhere on the web.
See how you could distinguish yourself from the competition and appeal to consumers they might be missing.
Here are a few suggested sources of inspiration: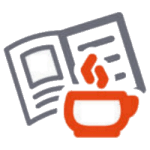 Watching industry through leaders can inspire and give you new marketing ideas. I recommend reading the full article with more winning campaign examples, Top 10 Influential Social Media Campaigns of 2017, by Matt Lee and Adhere.
Step 7: Use an Editorial Calendar
There's more to social media marketing than creating a bunch of social profiles… Your marketing plan will need to include strategies for content creation as well as an editorial calendar.
Here are a few things you'll need to consider for content creation:
What type of content you need to post and promote.
Who will create the content.
How often you will post.
The target audience for each social network.
How you will promote the content.
Your editorial calendar is basically a calendar which organizes deadlines, release dates, and production schedules of content you intend to publish content on Facebook, Twitter, YouTube and others for the life of your social media campaign. It's much easier to create a calendar and schedule posting to networks in advance then constantly update networks throughout the day.
WARNING: Once you start a social media campaign you will need to follow through or risk your audience thinking you abandoned them.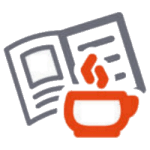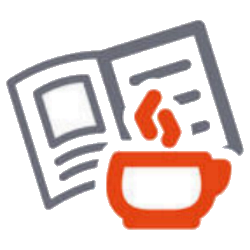 The easiest way to stay on top of your social media activities is to create an editorial calendar. Michele Linn has written an article outlining the some of the benefits and how's of scheduling content publishing with an easy to follow plan to get you organized quickly.
Lastly, social media isn't only online – it's communicating with your audience. In order to be successful, you'll need to get out from behind the computer and attend marketing events, seminars and speaking engagements. You should be meeting people and making new contacts and clients.
Invest in Tools
Most marketers have a secret, they leverage tools to boost their productivity. Ok, maybe it isn't a secret, but without tools, marketers would face constant burnout (many do even with tools). When it comes to social media, having a social media management tool allows you to scale your efforts with ease.
One of the main benefits of a social media management tool is the ability to schedule posts ahead of time. Remember that content calendar you created? Make sure your scheduled posts in your social media management tool align with your content calendar.
Step 8: Track, Evaluate, Adjust
The last element is a social media strategy is to monitor your actions and tweak accordingly. In order to be successful, you'll need to build tracking capabilities into every comment, post, image and video you make. One way to do this is through the use of URL shorteners. By creating special links for each piece of content, you'll be able to record and analyze your success (and failures) – and then adjust your plan accordingly.
Initiating surveys is another great way to gauge your success. Ask your audience how you're doing – their response might prove valuable when you're looking to adjust or expand.
It's important to remember that the internet is constantly changing. New networks will emerge and become popular while older networks fade into memory – you'll need to adjust your marketing plans to meet these new challenges. You'll also need to remain flexible as your scale your marketing efforts. New staffing, changing roles, new marketing territories, or special opportunities all need to be addressed. Rewrite your marketing plan as often as necessary and make sure your entire team is aware of updates.
Remember, social media marketing can be powerful, but at the end of the day it's just just another marketing strategy. You expect it to produce results, and if it's not, then something has to change. That's just smart business.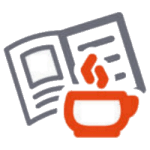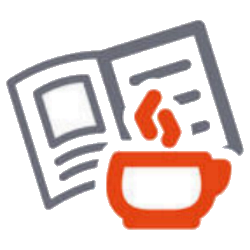 Bonus: Want to learn more about social media? Here are 8 links to walk you through some of the more common social media activities. From optimizing your LinkedIn profile to crafting a social media policy, here's something for almost everyone: